The busy life and the technology have given the apps for news a boost these days. Now, people tend to get a quick look at what is happening instead of sitting in front of a TV. This made a massive amount of applications emerging as the news provider in crisp and shortest way. But, delivering the news right away is not the only thing which makes a new app the best. Introducing Flipboard, it is one of the best news apps which share the latest news in the most efficient manner. What is more, it covers a massive number of categories and provides exciting content to the readers. This app utilizes the newest technology to deliver customized content without annoying the readers with redundant news.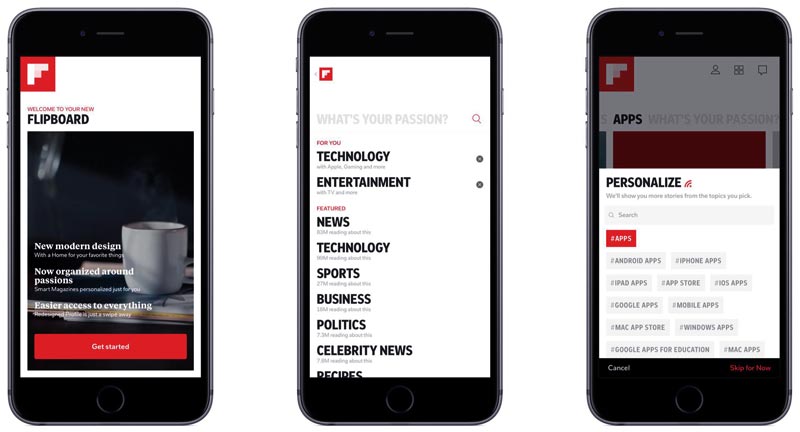 Flipboard is an application for gathering essential information from news publications, blogs as well as social networks. The user of this app can make a personalized magazine by choosing to flip it to repost and share with their followers. Flipboard allows you to select from more than 34,000 topics.
This news app has an extremely bright, magazine-style layout, which is flipped in by swiping. Due to its unique layout, Flipboard works tablets flawlessly. This is a kind of app which will take care of your interest without many questions. You personalize this app according to your like and interests.  Read all the articles and news based on your interest and discovers the world in just one click of a button. Flipboard curates the content and news according to the actions of the users and only delivers the related articles.
The user interface of Flipboard is simple, and it is simple to handle. After installing the app, you are asked to sign up or log in with your Twitter, Facebook account or email address. After registration, you'll be asked to make a profile, and the app will ask you to pick the topic of your choice. The categories take account of Politics, Business, technology, sports, as well as music. After choosing the category, you'll see some subcategories like #Maroon 5, or any topics.
Flipboard Features
Flipboard features a magazine which can allow users to make their customized magazine through collecting the content from diverse websites or sources and collate them into a journal that can be shared to friends or other readers. The best thing about it is that magazine can be set to private or public, and the choice is yours. This app is available on iOS, Android, Windows, Blackberry and web application.  Also, there is a simple import from Google Reader.
Social network integration: This app pulls essential info social media networks such as Google+, Linkedin, Twitter, Facebook, and many others. The whole thing is included in one application that can be flipped and shared, directly on the app itself or on social media sites.
Conclusion
With this app, you can easily discover different stories based on different topics.  Flipboard has lots of Magazines which you can follow, and cover various subjects. Some useful and exciting general topics take account of home decoration. There are also some hugely specific like for instance there is one just about the latest development in technology which expands human lifespan. Users can make their Magazines, and then share them with friends, or keep them exclusive. You can download this app for free on Google Play or Apple's App Store.